SAFE| MECHANICAL COMBINATION
SAFE| MECHANICAL COMBINATION
Mechanical combination safe.
Extremely reliable mechanical locking system and avoids the problem of key management.
This wall safe is available in 3 colors: white (RAL 9001), grey (RAL 7031), black.
Additional information
| | |
| --- | --- |
| Dimensione | 6 fucili, 8 fucili, 13 fucili |
| Chiusura | serratura a doppia mappa, serratura a doppia mappa + combinazione 3D, serratura a doppia mappa + combinazione elettronica |
Tempered steel plugs to protect the lock combination pin.
Combination system with three knobs with twenty positions each.
Welding of the front system-continuous body to ensure maximum resistance to break-in.
Door stop obtained with drawn section 35 × 5-10 mm, welded on three sides inside the frame.
Thanks to laser cutting technology, the coupling lights are uniform, and a perfect thread has been obtained between the door and the frame.
Rotating and independent antiread locking pins in chromed steel.
Door and frame made of 10 mm thick treated steel.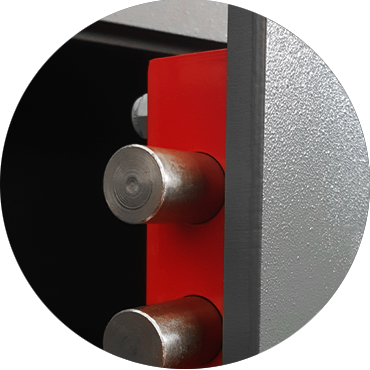 | CODE | LOCK | DIMENSIONS EXT mm | PINS |
| --- | --- | --- | --- |
| SC 105 | Mechanical combination | H240 x W350 x D180 | 2 |
| SC 105 P | Mechanical combination | H240 x W350 x D220 | 2 |
| SC 106 | Mechanical combination | H290 x W400 x D180 | 4 |
| SC 106 P | Mechanical combination | H290 x W400 x D220 | 4 |
| SC 107 | Mechanical combination | H360 x W460 x D200 | 5 |
| SC 107 P | Mechanical combination | H360 x W460 x D240 | 5 |
| SC 109 | Mechanical combination | H620 x W460 x D290 | 5 |
| SC 109 P | Mechanical combination | H620 x W460 x D350 | 5 |
Gun Safes, Steel

Gun cabinets with certificate of conformity.

This 20 gun safe (cod. PF300T) can hold up to 20 rifles. The cabinets of the Key Line are perfect for storing weapons as they are made according to the current safety standards requested by law. All PFT KEY Line cabinets are equipped with internal safe.

REQUEST A QUOTE