SAFE| EUROPEAN CYLINDER
SAFE| EUROPEAN CYLINDER
Lockable safe with European Profile cylinder.
This model of safe offers the advantage of having a short key and can easily replace the cylinder in case the end user wishes to unify the lock of the safe with other locks (possibility of burning or execution in KA at key centers
specialized).
Additional information
| | |
| --- | --- |
| Dimensione | 6 fucili, 8 fucili, 13 fucili |
| Chiusura | serratura a doppia mappa, serratura a doppia mappa + combinazione 3D, serratura a doppia mappa + combinazione elettronica |
Lock with bolts controlled by anti-bumping European profile safety cylinder, with double encryption system, with reversible flat key.
DIN cam adjustable in 8 positions.
Numbered property card for a controlled duplication of the key.
Ø22 mm revolving nickel-plated bolts.
Key entry protected by a rotating plate in carbonitrided steel to protect the cylinder against drilling.
Internal plate with anti-breaking function of the cylinder.
Cylinder easily replaceable by the user.
Lock protection with anti-drill manganese steel plate.
Special door beats for exceptional resistance to break-in attempts with the use of a club.
Robust internal welds made with a robotic system.
Perimeter welding of the front to the body made in continuous with robotized system.
Internal shelf.
Anchor lugs on the 4 sides of the bottom with anti-tear function.
Thermosetting powder coating with oven drying.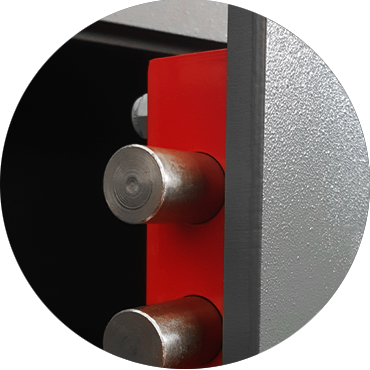 Safe with construction key system
The construction site key is used in the masonry phase of the safe and subsequently, when the work is finished, the owner is given a sealed set of 3 keys which, by modifying the encryption, excludes and renders the construction key unusable.
Property card
The keys are accompanied by a numbered property card for a controlled duplication of the key at specialized centers.
Replacement of the cylinder
The cylinder must always be replaced using a standard Profile Euro 30-10 profile cylinder, with cam adjustable in several positions.
| CODE | LOCK | DIMENSIONS EXT mm | PINS | WEIGHT |
| --- | --- | --- | --- | --- |
| SEK 4 | Key | H270 x W390 x D200 | 2 1+1 | 18 kg |
| SEK 5 | Key | H340 x W460 x D200 | 3 1+1 | 25 kg |
Gun Safes, Steel

Gun cabinets with certificate of conformity.

This 20 gun safe (cod. PF300T) can hold up to 20 rifles. The cabinets of the Key Line are perfect for storing weapons as they are made according to the current safety standards requested by law. All PFT KEY Line cabinets are equipped with internal safe.

REQUEST A QUOTE