S 205 | CAMILLA LINE
S 205 | CAMILLA LINE
Armored door for security rooms
The S 205 door of the Camilla line is made of textured grey (Ral 7032) in M.S. steel with double wall, and internally, on the door, numerous connection reinforcements.
Concrete conglomerate on the whole surface of the door and the frame, already included or to be made on site when the door is assembled.
It has an anti-segregation device for opening from the inside.
Additional information
| | |
| --- | --- |
| Dimensione | 6 fucili, 8 fucili, 13 fucili |
| Chiusura | serratura a doppia mappa, serratura a doppia mappa + combinazione 3D, serratura a doppia mappa + combinazione elettronica |
Closing system: triple expansion closing, operating 5 horizontal bolts diam. 32 plus 1 upper and 1 lower. The system is operated by a frictioned handle which, in case of forcing beyond certain limits, slips avoiding to damage the system itself.
Lock: 8-lever female key lock, with non-removable key with open door. Mechanical combination with 3 coaxial disks, forming 1 million combinations (or on request electronic combination).
The two locks, with a double indirect system, work independently of one another.
The hinges positioned externally on the right side of the door, appropriately sized, have the sole function of rotating the door, while the safety of the door on the hinge side is ensured by a tear-resistant interlocking profile that joins the door with the right side.
Protections: Manganese steel extended to the entire surface of the door, manganese steel plate to protect the closing devices and further manganese plates to protect the locks.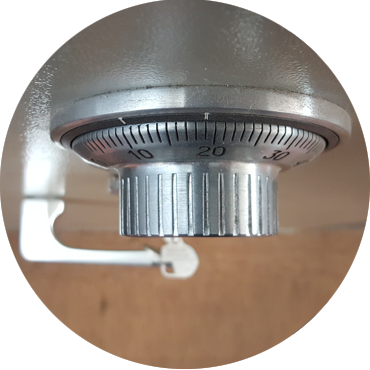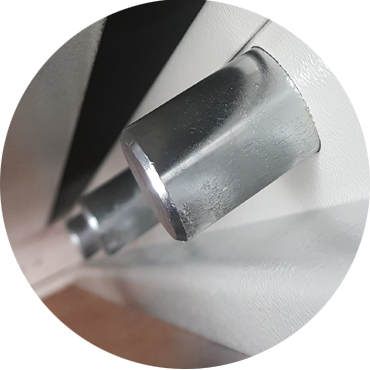 | CODE | LOCK | DIMENSIONS EXT FRAME cm | DOOR PASSAGE cm | PINS | WEIGHT |
| --- | --- | --- | --- | --- | --- |
| S 205 CM CC | key + mechanical combination with cement conglomerate | H205 x W90 x D15 | H185 x W70 | 5+1+1 | 360 kg |
| S 205 CE CC | key + electronic combination with cement conglomerate | H205 x W90 x D15 | H185 x W70 | 5+1+1 | 360 kg |
| S 205 CM SC | key + mechanical combination without cement conglomerate | H205 x W90 x D15 | H185 x W70 | 5+1+1 | 250 kg |
Gun Safes, Steel

Gun cabinets with certificate of conformity.

This 20 gun safe (cod. PF300T) can hold up to 20 rifles. The cabinets of the Key Line are perfect for storing weapons as they are made according to the current safety standards requested by law. All PFT KEY Line cabinets are equipped with internal safe.

REQUEST A QUOTE